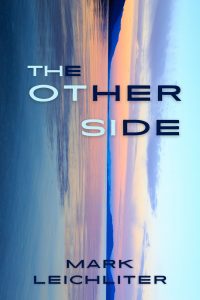 How do you start an investigation when you have no evidence that a crime has been committed?
When a seventeen-year-old girl abruptly disappears from a sleepy Montana tourist town, the ensuing investigation probes dead-ends seemingly as deep as Flathead Lake. The effort to discover what has happened to Britany Rodgers takes readers inside spectacular lakefront mansions and within gritty trailer parks, and into the lives of those who exhibit motivations as murky as the fog-choked Montana woods. The Other Side offers readers a tense crime novel with a literary heart.
Mark Leichliter is a writer, editor, teacher, and writing coach. His short fiction and essays have appeared regularly in literary magazines since 1991. Writing as Mark Hummel, he is the author of the novel In the Chameleon's Shadow and the story collection Lost and Found; a dark comedic novel titled Man, Underground is forthcoming from Regal House Publishing in Fall 2023.
Thanks for visiting. Spend some time, learn more about his work, or get in touch. But fair warning, the fog can move in quickly to these vast, bluebird Montana skies and danger sometimes creeps within it.
Praise for The Other Side
"The Other Side is a taut and thrilling tale. Mark Leichliter knows Montana as well as he knows his characters' dark and hidden hearts. Steve Wendell is a masterful creation—a dogged and honest man who can't forget the faces of the victims he serves. I couldn't turn the pages fast enough."—Alyson Hagy, author of Boleto and Scribe
"The Other Side is a haunting procedural propelled by a smartly-developed cast of characters and rich descriptions of unforgettable landscapes. You won't want to miss this perfect blend of atmosphere, mystery, and a protagonist you won't forget."–Christine Carbo, award-winning, bestselling author of The Glacier Mystery Series
"Sink into a gripping police procedural with solitary, cerebral Detective Steve Wendell as he struggles to find missing seventeen-year-old Brittany Rogers in the uncompromising wilds and beauty of Montana's Flathead Lake. Could she have fled the boredom of her small-town life? Or did she fall prey to a twisted human predator? As her father stokes resentments and burrows into conspiracy theories, Brittany's mother loses more than her daughter. Captivating characters and a landscape that simultaneously entices and menaces lure the reader into a page-turning novel of suspense and discovery."—Deborah Turrell Atkinson, author of the Storm Kayama suspense series and Feathers in the Soul: A Guide for Families Struggling with a Child's Addiction
"A chilling story, surprising twists . . . everything you'd want in a great crime novel."–Catherine McKenzie, bestselling author of The Good Liar and Hidden
"This fast-paced mystery will keep readers guessing as they navigate the case's numerous plot turns. Leichliter masterfully weaves clues and red herrings into the story in a way that will repeatedly challenge his audience's assumptions."–Kirkus Reviews